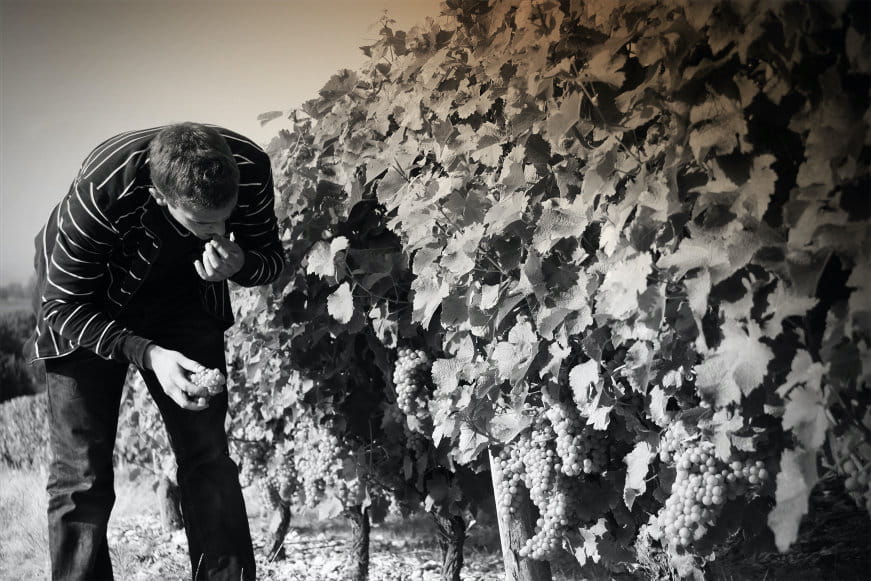 Meet Florent Bourgeois, who has managed Domaine Gérard Fiou since 2013. His family heritage, his background and his tour of the winemaking world have allowed him to develop and perfect his viticulture and winemaking techniques to deliver expressive and brilliant terroir wines, which are among the finest wines of Sancerre.

WINEMAKER'S PHILOSOPHY
I was born in 1987 in a winemaking family established in Chavignol, not far from Saint-Satur and the flinty soils that I work today through my wines. For me, and for all of us, wine is much more than a product of pleasure or craft, but an exercise in sublimation and expression. In my family, we talk with wine. It is therefore quite logical, after growing up on the slopes of Sancerre, that I studied viticulture and winemaking at the school of Mâcon, in Burgundy. After my first experiences in the field at Château de Tracy (Pouilly-sur-Loire) and in the Beaujolais region, I decided to leave, like many young winemakers, to travel around the world and build my philosophy of wine.

I first left to discover the vineyards of California, at Kendall Jackson's Vérité winery, then with the winemaker Pierre Seillan in Sonoma Valley. Then Argentina, in Mendoza, at the Familia Zuccardi Winery where I carried out micro-vinification tests on different grape varieties. I finish my wine world tour at Clos Henri, in the Wairau Valley of Marlborough, New Zealand. There, 22,000 km from Sancerre, I perfected the work of the two grape varieties that I still grow today in Saint-Satur, Sauvignon Blanc and Pinot Noir.

In 2013, I returned to Sancerre, to take over the Domaine Gérard Fiou, and continue the work of its founder, in the expression of an exceptional and rare flinty terroir. Since then, I cultivate the pleasure of discovering bold wines, in the tradition of my family; unique terroir wines, that I share with you in our cellar of Saint-Satur.

I look forward to meeting you with our beautiful vintages.

Florent Bourgeois, artisan winemaker at Domaine Gérard Fiou.